Varicose Veins
VARICOSE VEINS are swollen veins which often look blue, bulging and twisted. Veins of legs and ankles are most commonly affected by this condition. If left untreated, varicose vein can worsen over time.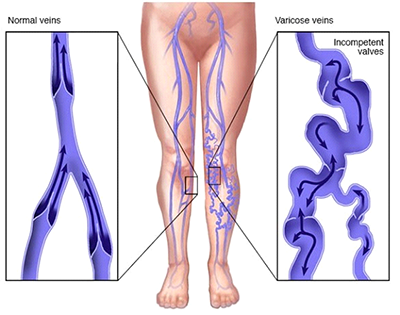 Symptoms of VARICOSE VEINS
+ Dark purple or blue in color
+ Veins that appear twisted and bulging; often like cords in legs  
+ An achy or heavy feeling in legs 
+ Burning, throbbing, muscle cramping and swelling in lower legs
+ Worsened pain after sitting or standing for a long time
+ Itching around one or more of your veins 
+ Bleeding from varicose veins
How does laser 1470nm work?
+ A laser fiber is being introduced into the vein using a special catheter set 
+ The vein is being coagulated from inside by laser energy
Advantages for Endovenous Treatment of Branch Varices and Reticular Veins
+ No discoloration of skin, as sometimes happened during transcutaneuos lasering or sclerotherapy
+ Also for patients getting anticoagulation drugs 
+ No skin burning
+ Free of pain